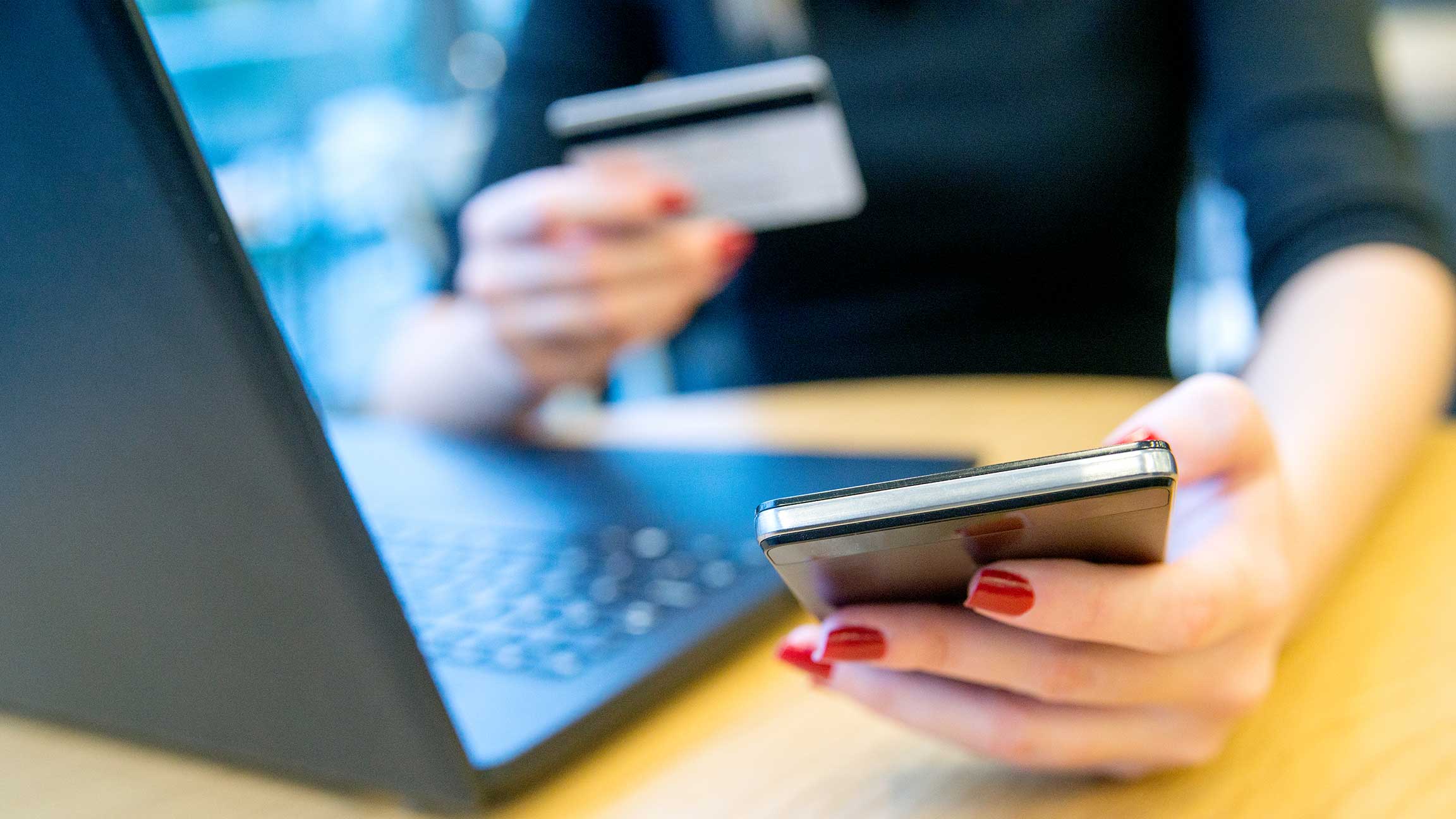 Summary
In a potentially troubling sign for growth globally, productivity has been declining for decades. In the first of a series on productivity as an economic theme, we explore why this seemingly dry concept matters – and why businesses, governments and investors need to adopt a sense of urgency in finding ways to solve the productivity puzzle.
Key takeaways
Productivity is a major economic driver, but productivity growth is below 1% in the US, Europe and Japan – and falling
Key supply and demand factors keeping productivity down: a shrinking workforce, lack of investment and deglobalization
Technology and innovation can help fix the productivity puzzle; governments should incentivize companies to invest in R&D
Why should anyone care about productivity? Although a seemingly dry concept, it is arguably the most significant driver of economic growth. When businesses and workers increase their productivity, they boost supply, putting downward pressure on prices. Higher productivity should also translate into higher wages. The combination of improved pay and lower prices should drive improved economic activity and higher living standards.
With demographic trends being weak in developed economies – the labour force is expected to fall in the coming decade in the US, Europe and Japan – strong productivity is key to achieving long-term sustainable growth for the Western economy.
The bad news is that we have been facing a long-term, structural decline in productivity growth. If this continues, it will damage future economic prospects and compel central banks to keep interest rates low for years to come. As a result, investors may need to factor in a challenging macroeconomic environment ahead.
Defining the productivity challenge
But what is productivity? The standard, though not only, measure of productivity is labour productivity – the output per hour worked divided by the labour input per worker. In other words, you divide what you get out by what you put in. 1
The numbers shown in the accompanying charts depict a worrying trend: Labour productivity growth has been trending down for decades. In the US, despite a spike around the turn of this century, the overall trend is down. On a three-year centred average, productivity growth has dipped to 3.6 per cent a year in China, compared with 10.9 per cent in 2006.
America Has Productivity Problems
The world's biggest economy's labour productivity growth is below its 1970s level, reflecting the productivity malaise plaguing developed economies.

Source: "Is US Economic Growth Over? Faltering Innovation Confronts the Six Headwinds", Robert J. Gordon, National Bureau of Economic Research, August 2012. Chart shows annual labour productivity growth from 1891-2012.
Globally, Productivity Has Been Declining for Years
Developed-market productivity growth has been falling for decades; China's fell almost two-thirds in the last 10 years.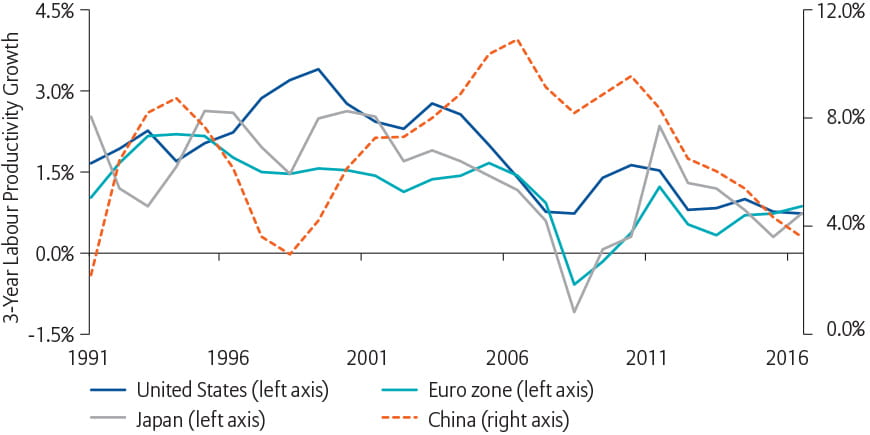 Sources: AllianzGI, Conference Board as at 31/12/2016. Chart shows 3-year centred average.
Why does this matter? Because, in a nutshell, lower productivity translates into lower gross domestic product (GDP) – a key measure of an economy's overall size and health. As economic growth weakens, living standards may fall. These numbers raise pressing questions. For starters, how can productivity growth be falling when we seem to be working harder than ever? Besides, isn't technology enabling us to be ever more efficient? And if labour productivity growth is dropping, how can we turn it around?
Why productivity growth is falling
In today's global economy, troublesome supply and demand factors are pushing productivity lower. Economists disagree on which factors are most relevant – as economists always do – but the supply factors most often cited include:
Diminishing returns from high-tech developments. Robert Gordon is among those economists arguing that the technological innovations with the biggest positive impact on productivity – such as electricity, the combustion engine and telephones – were invented during the second industrial revolution, which ended more than 100 years ago. Today's innovations contribute less to improvements in living standards than those earlier breakthroughs.2
The global workforce is shrinking. Low unemployment rates, slowing growth, and an ageing population add up to a clear drag on productivity, particularly for Western companies. As baby-boomers drop out of the labour force – but not out of the total population – the hours worked per capita are shrinking. Output per capita is also falling as a result.
An older workforce tends to be a less productive one. While it's difficult to establish a precise relationship between age and productivity – because many different factors are at play – research suggests that people are typically at their most productive until around 55 years old. As populations age, this has implications for overall productivity levels. It also highlights an increasing social need to secure jobs for older workers, who are increasingly being forced to postpone retirement.
Low interest rates allow unproductive use of capital. Some economists argue that sustained low interest rates, especially following the financial crisis – and, arguably, beforehand too – have helped to distort the price for money, leading to a misallocation of resources. Think, for example, of so-called zombie companies – those unproductive firms that are ailing financially. Low interest rates offer them life support by allowing them to borrow cheaply and roll over debt. In a normal rate cycle they may no longer exist. In addition, low interest rates may, paradoxically, deter investment by companies, because the "opportunity cost" of leaving the cash on balance sheet is so low.
Startup activity has been falling for decades. The current hype around technology startups masks a less encouraging fact about an overall decline in startup activity. In the US alone, the number of new companies as a share of all businesses actually dropped 44 per cent between 1978 and 20123. While new companies typically play a disproportionate role in boosting innovation, productivity and job creation, the US startup rate is, in fact, in long-term decline.
In addition to these key issues related to the supply of goods and services, the productivity challenge is amplified by demand factors:
Uncertainty and deglobalization are dragging demand lower. Demand is being weighed down due to the rise in political uncertainty, the move away from globalization and high levels of leverage in the global economy – among other factors.
Low rates mean debt-fuelled shopping. Increasingly, demand is not driven by product manufacturing or corporate requirements but by online services and an end consumer who is paying for it through access to debt, which is issued by a central bank that is attempting to reflate its economy.
Demographics are compounding the lack of demand. An ageing population consumes less, except for health care, and creates a capital shortfall that can be filled only through increasing amounts of leverage or debt.
Can technology turn the trend around?
Given the clear downsides of lower productivity, and the limitations of using debt to spur growth, it seems to be imperative to find new ways to turn the productivity trend around.
On the face of it, new technologies should help to enhance productivity as the workforce shrinks and demand weakens. But, per Robert Gordon's argument, today's tech-based innovation is potentially less transformative than even the introduction of the desktop PC.4 In addition, much of the technology innovation we experience in our daily lives is focused on lifestyle and entertainment options, which contribute less to economic growth.
The technologies that represent the biggest potential wins for business – such as big data, artificial intelligence and the internet of things – are complex to implement and integrate, and may take years to come into their own. While there's no cause for pessimism, we should not expect technology to be an automatic driver of productivity. Another challenge is the question of when to invest: Why spend money on IT now if something cheaper and more powerful will exist in two years' time?
Incentivizing R&D
That said, investment and innovation are vital to solving the productivity puzzle. This means companies need to be incentivized to invest in research and development (R&D). They need to look to the long term. Those that focus only on achieving a higher stock price today – by clinging to legacy franchises and failing to disrupt themselves – may find they don't have a franchise at all in the future. In addition – as we will address in a future article – industries can no longer rely on low-cost manufacturing in China and other emerging markets to mask productivity problems back home.
Governments have a key role to play in fixing this issue. True R&D is often derived from raw science and funded by the public sector, government and universities. Periods of innovation and productivity have often followed economic crises or war, and it is that kind of urgency – the need to find a solution quickly – that should inspire business, governments and investors to take up the challenge and define a new productivity paradigm for our age.
1. There's an ongoing debate among economists, which we'll revisit in a future piece, about whether a new measure of productivity is required – one more suited to an increasingly service-oriented economy.
2. See "The Rise and Fall of American Growth: The US Standard of Living Since the Civil War", Robert J Gordon.
3. Kauffman Foundation, citing its own research and drawing on US census data.
4. Technology innovation is getting harder and therefore the return on investment (ROI) is falling. Scientists are predicting the end of Moore's Law – which originally stated that the number of transistors per square inch on integrated circuits doubles every year (although that time frame had already slipped to 18 months). This would mean the end of a world where computers have got better and cheaper exponentially; where improvements in computing power and energy efficiency have gone hand-in-hand. In future, performance improvements may come more slowly, unless programming breakthroughs can pick up the slack. This law is as much an observation about economics (and productivity) as it is about physics, because it reminds us that the benefits of doing something aren't always higher than the costs.
Investing involves risk. The value of an investment and the income from it will fluctuate and investors may not get back the principal invested. Past performance is not indicative of future performance. This is a marketing communication. It is for informational purposes only. This document does not constitute investment advice or a recommendation to buy, sell or hold any security and shall not be deemed an offer to sell or a solicitation of an offer to buy any security.
The views and opinions expressed herein, which are subject to change without notice, are those of the issuer or its affiliated companies at the time of publication. Certain data used are derived from various sources believed to be reliable, but the accuracy or completeness of the data is not guaranteed and no liability is assumed for any direct or consequential losses arising from their use. The duplication, publication, extraction or transmission of the contents, irrespective of the form, is not permitted.
This material has not been reviewed by any regulatory authorities. In mainland China, it is used only as supporting material to the offshore investment products offered by commercial banks under the Qualified Domestic Institutional Investors scheme pursuant to applicable rules and regulations.
This document is being distributed by the following Allianz Global Investors companies: Allianz Global Investors U.S. LLC, an investment adviser registered with the U.S. Securities and Exchange Commission; Allianz Global Investors GmbH, an investment company in Germany, authorized by the German Bundesanstalt für Finanzdienstleistungsaufsicht (BaFin); Allianz Global Investors Asia Pacific Ltd., licensed by the Hong Kong Securities and Futures Commission; Allianz Global Investors Singapore Ltd., regulated by the Monetary Authority of Singapore [Company Registration No. 199907169Z]; Allianz Global Investors Japan Co., Ltd., registered in Japan as a Financial Instruments Business Operator [Registered No. The Director of Kanto Local Finance Bureau (Financial Instruments Business Operator), No. 424, Member of Japan Investment Advisers Association]; Allianz Global Investors Korea Ltd., licensed by the Korea Financial Services Commission; and Allianz Global Investors Taiwan Ltd., licensed by Financial Supervisory Commission in Taiwan.
238781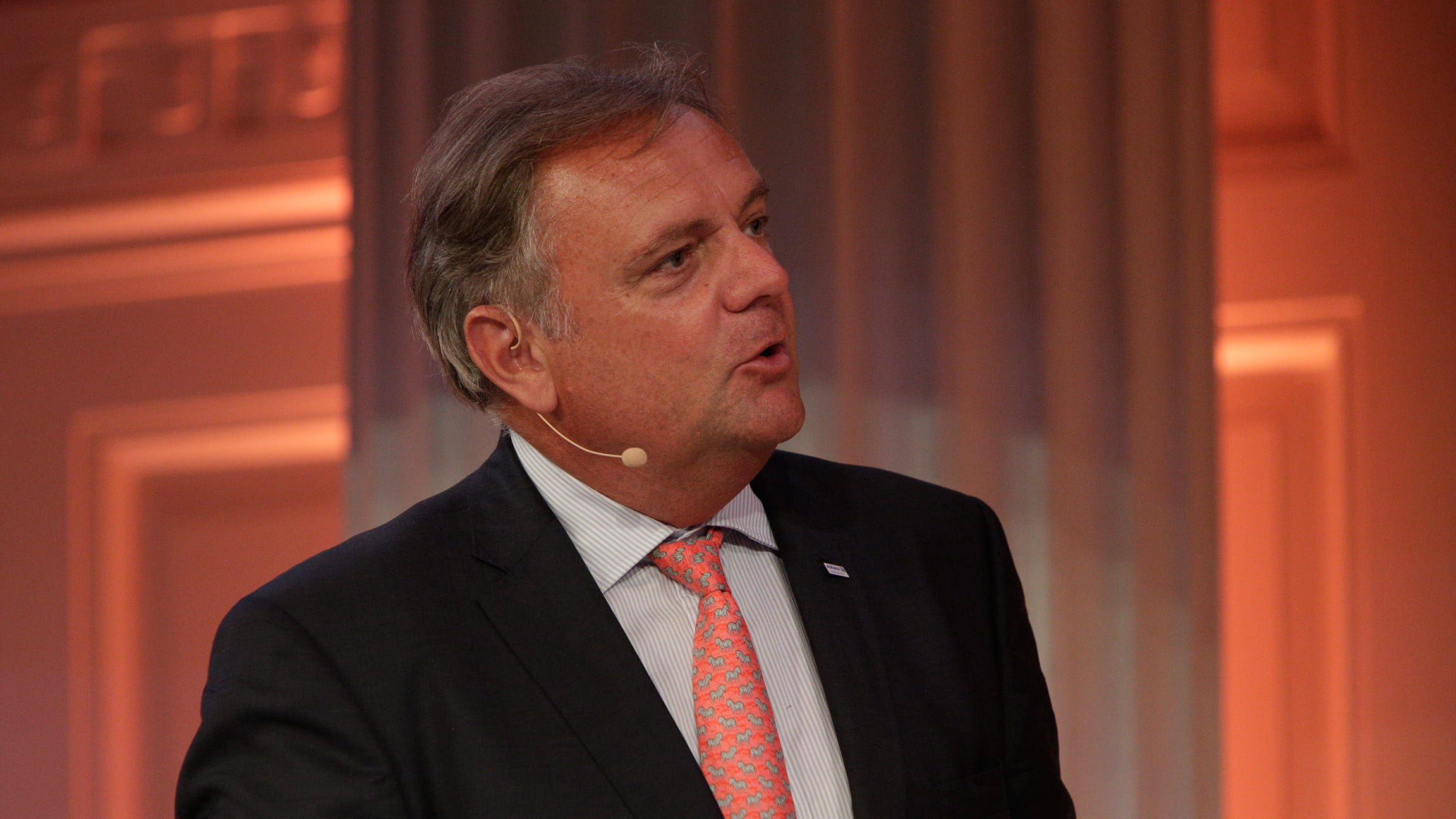 Summary
In early September, our strategists, economists and portfolio managers from around the globe convened in New York for our semi-annual Investment Forum. Their goal? To explore the way forward for our clients in a world where taking risk is necessary to earn a return, but where opportunities are getting harder to find.
Key highlights
The global economy has moved away from a synchronized upturn
We are at peak liquidity ahead of the "great unwinding" as central banks contemplate quantitative tightening
Risk management must become more tailored and sophisticated
Active management remains key to finding return potential against this uncertain backdrop