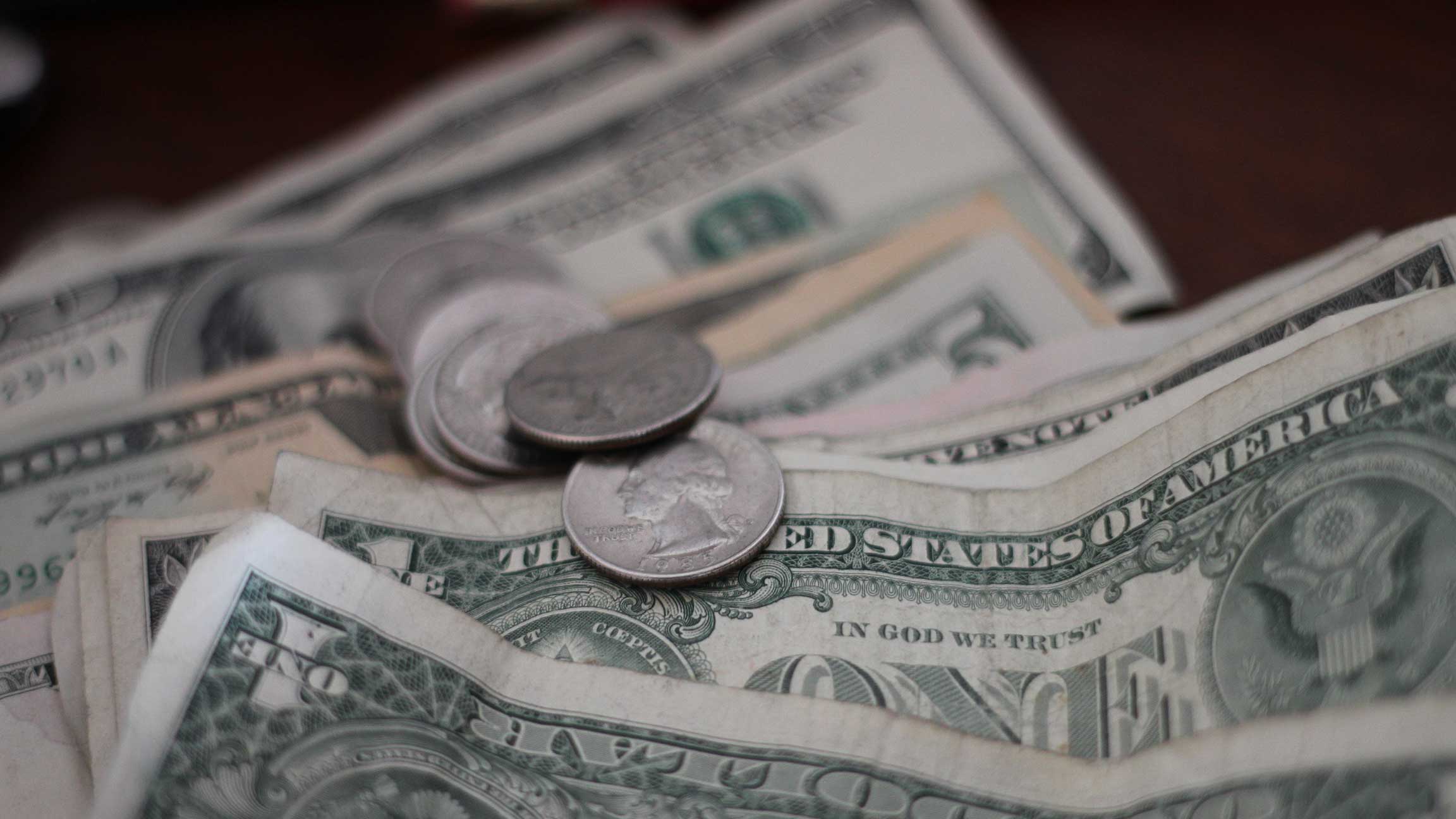 Summary
Tight US labour markets and stronger growth lead some to believe that higher inflation is coming, while others say structural shifts such as globalization and automation should keep wages and prices low. We expect an upward bias in inflationary pressures, but not a return to pre-crisis levels.

Key takeaways


US inflationary pressures are likely to grow over time, driven by low unemployment, higher growth, rising commodity prices and inflation in China
We don't expect inflation to return to pre-crisis levels; structural forces, such as globalization and automation, and a global hunt for yield should exert downward pressure
History shows that inflation can spike rapidly – often towards the end of an economic cycle
Consider absolute-return and alternative strategies, as well as international equities, as the US enters the final leg of its cycle
With US inflation staying persistently below the Federal Reserve's 2.0 per cent target rate for more than five years, many market-watchers are puzzled. Certain inflation indicators have recently started to rise, but the jury is still out on whether inflation will return to pre-crisis levels or remain relatively subdued. Here are some of the key arguments of both sides of the inflation debate.


The Case for Rising Inflation: Cyclical Forces in Play
1. Low unemployment should create a rise in inflation
The US unemployment rate is at 4.1 per cent and expected to drop further, and wage growth has stagnated. According to the Phillips-curve theory, the sharp drop in unemployment should create a rise in inflation, largely driven by tight labour markets and accelerating wage growth. Proponents of this economic theory believe that wage growth is forthcoming – which means inflation should rise as well.


2. Growth prospects and tax reform are inflationary
US economic growth is expected to be robust in 2018, at an estimated 2.5 per cent. The tax reform bill should be incrementally positive to growth, but we believe the benefits will be concentrated in the first one to two years. If growth rates in the US in the coming year exceed forecasts, inflation expectations should increase.


3. Exogenous pressures could push prices up
Commodity prices, particularly energy prices, have risen substantially over the past 12 months. While core inflation excludes food and energy, more expensive commodities can mean higher prices for many final goods. In addition, the dollar has grown softer, making US corporations more competitive globally – another trend that could push inflation up over time. China's inflation has also been steadily rising, and with Chinese goods used as inputs into many US final goods, this could creating further upward pricing pressure in the US.


4. Inflation can appear quickly
In the Fed's latest cycle, which has already included several rate increases, we have seen few signs of inflation moving significantly higher. However, history shows us that inflation can emerge rapidly – and frequently towards the end of a cycle, as shown in the accompanying chart.


Spikes May Surface When the Fed and Core PCE Meet
Arrows indicate times where inflation jumped up towards the end of a cycle.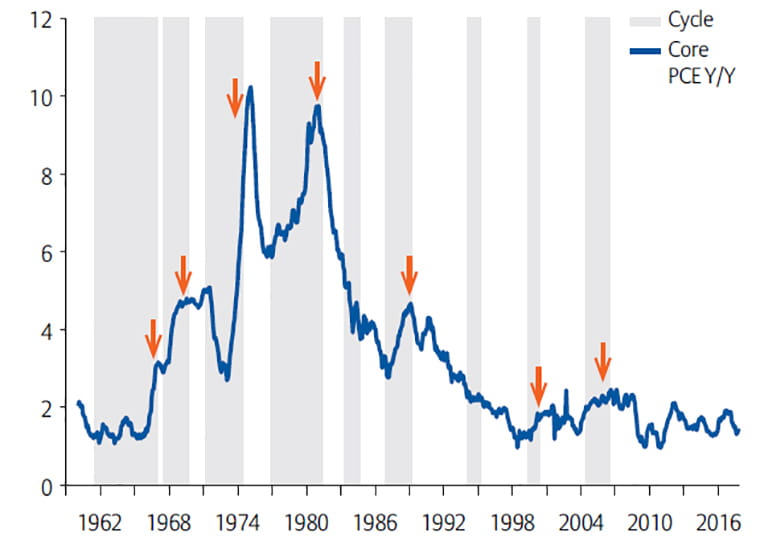 Source: FactSet, AllianzGI. Data as at October 2017.


The Case for Inflation Staying Soft: The Secular Story
1. Structural shifts are underway
Many point to longer-term structural shifts, such as globalization and automation, as key factors that could keep US inflation low for some time. Today's employers can recruit workers globally and frequently pay them less, creating downward pressure on wage growth. Disruptive technology has also automated away many jobs, particularly in manufacturing and online retailing, and the boom in online shopping has pushed many prices lower.


2. The global hunt for yield is likely to keep rates down
Interest rates remain extremely low globally. Much of the developed world has 10-year interest rates below the US 10-year Treasury yield, and major economies – such as the euro zone and Japan – continue to favour keeping their rates low. So if the US 10-year rate starts to approach 3.0 per cent levels, it could attract more investors, which would drive up prices and push down yields. These persistently low yields may even be a cause of today's low inflation.


Our Perspective on Inflation
We believe that cyclical forces are outweighing structural forces at this point in the economic cycle; as a result, we expect to see an upward bias in both US inflation and long-term yields.

The case for mounting inflationary pressures is being made primarily by tight labour markets and continued above-potential economic growth. However, we do not see inflation or rates returning to pre-crisis levels. This is largely due to the aforementioned structural shifts, and to the global demand for yield that continues to be a headwind to inflation and interest rates.

As we approach this final – and potentially inflationary – leg of the US economic cycle, investors should remain cautious about inflation, diversifying their asset mixes appropriately. Alternative and absolute-return investments, as well as international assets, may be beneficial.
Investing involves risk. The value of an investment and the income from it will fluctuate and investors may not get back the principal invested. Past performance is not indicative of future performance. This is a marketing communication. It is for informational purposes only. This document does not constitute investment advice or a recommendation to buy, sell or hold any security and shall not be deemed an offer to sell or a solicitation of an offer to buy any security.

The views and opinions expressed herein, which are subject to change without notice, are those of the issuer or its affiliated companies at the time of publication. Certain data used are derived from various sources believed to be reliable, but the accuracy or completeness of the data is not guaranteed and no liability is assumed for any direct or consequential losses arising from their use. The duplication, publication, extraction or transmission of the contents, irrespective of the form, is not permitted.

This material has not been reviewed by any regulatory authorities. In mainland China, it is used only as supporting material to the offshore investment products offered by commercial banks under the Qualified Domestic Institutional Investors scheme pursuant to applicable rules and regulations.

This document is being distributed by the following Allianz Global Investors companies: Allianz Global Investors U.S. LLC, an investment adviser registered with the U.S. Securities and Exchange Commission; Allianz Global Investors GmbH, an investment company in Germany, authorized by the German Bundesanstalt für Finanzdienstleistungsaufsicht (BaFin); Allianz Global Investors Asia Pacific Ltd., licensed by the Hong Kong Securities and Futures Commission; Allianz Global Investors Singapore Ltd., regulated by the Monetary Authority of Singapore [Company Registration No. 199907169Z]; Allianz Global Investors Japan Co., Ltd., registered in Japan as a Financial Instruments Business Operator [Registered No. The Director of Kanto Local Finance Bureau (Financial Instruments Business Operator), No. 424, Member of Japan Investment Advisers Association];and Allianz Global Investors Taiwan Ltd., licensed by Financial Supervisory Commission in Taiwan.

419497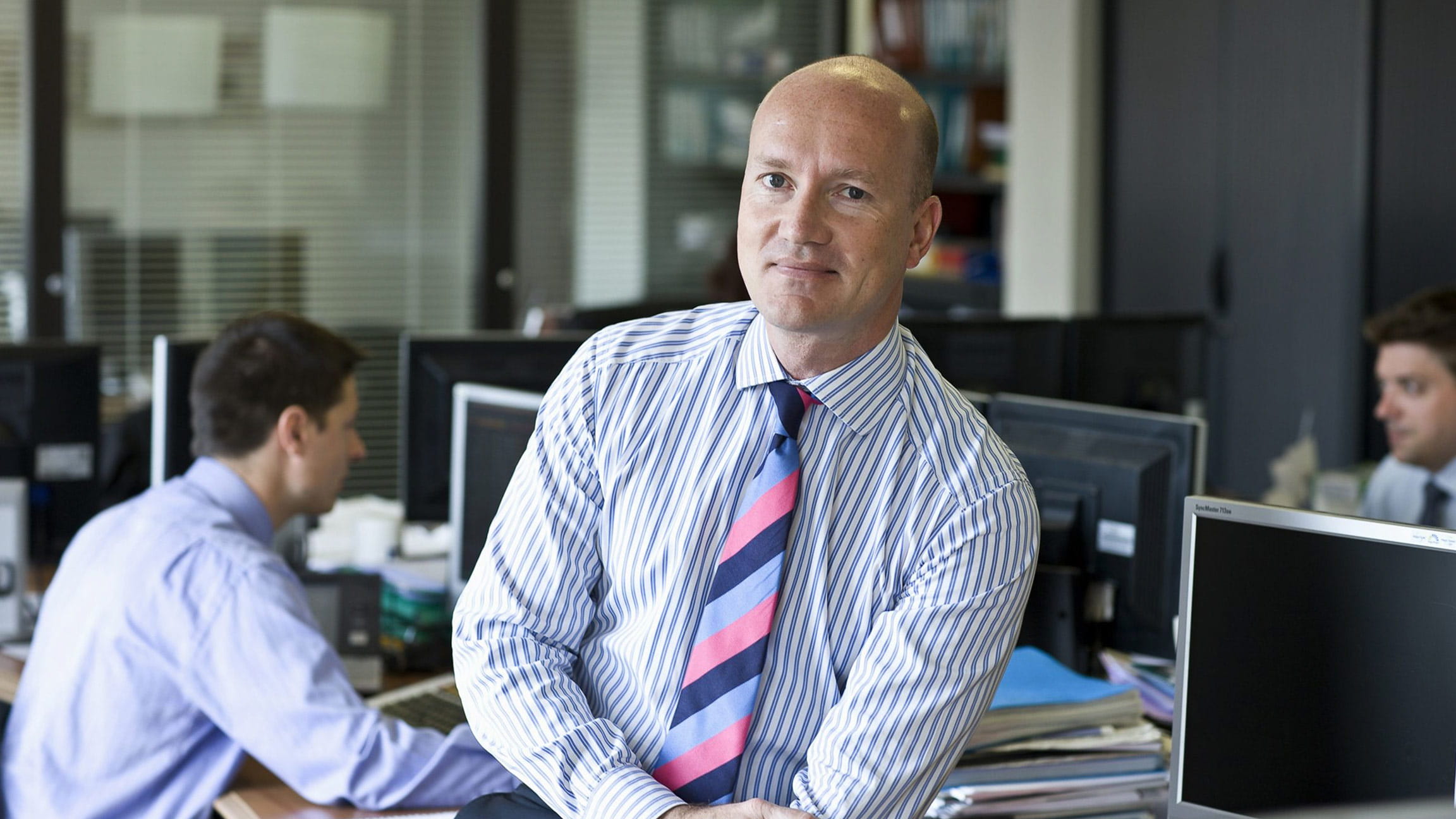 Summary
Don't expect any monetary-policy decisions to be made at the European Central Bank's meeting on 8 March, says Franck Dixmier. But the bank is likely to clarify its forward guidance to announce that it will no longer link the continuation of QE with inflation, which has remained stubbornly low.