Can climate change be ignored?
Many asset owners and investors still argue that climate change-related investment risk is not real. To achieve optimal investment results – so goes their line of argument – climate risk is largely irrelevant. At best, it can be completely ignored because regulation does not require any action. Is climate change risk really immaterial for investment decisions, risk management and portfolio strategy? Here are a few arguments that may change your mind.1
1/ The European Parliament passed a new Institutions for Occupational Retirement Provision (IORP) Directive II in 2016. It states that pension funds' "risk assessment should include risks related to climate change […] and risks related to the depreciation of assets due to regulatory change ('stranded assets')."2
2/ Mid-2017, most French-domiciled Institutional Investors are required to report on ESG integration and climate change risk in their portfolio. Additionally, climate risk-related portfolio stress tests are recommended. Both are the result of the Article 173 of the French Energy Transition Law, which works on a comply or explain approach.
3/ The French Article 173 may have spillover effects on Europe. The Expert Group on Sustainable Finance of the European Commission is currently discussing similar avenues about ESG and climate risk-related portfolio reporting.
Four out of five global risks are directly related to climate change and environmental challenges.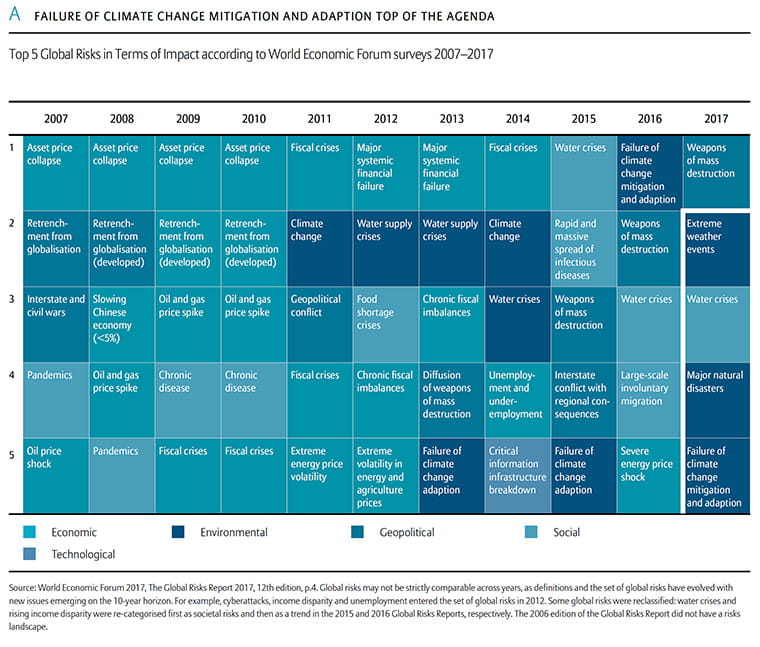 It cannot be diversified away
Investors need to understand that climate change is a key long-term, systemic and truly global risk that ultimately cannot be diversified. Since there is only a small likelihood of escaping mother earth, mankind should rather take climate risk seriously. Elon Musk, the CEO of Tesla, Solarworld and SpaceEX, plans to colonise Mars, but this may not be a safe bet!3
In its 2017 survey, the World Economic Forum (WEF) considers four out of five global risks to be directly or indirectly related to climate change (see chart A/). Climate change risks now outpace financial risks.
If all the climate policy targets of the COP21 Paris international climate agreement are to be reached, greenhouse gas (GHG) emissions need to be cut by approximately 95% by 2050! The economy needs to move beyond carbon. This implies a massive overhaul of business models, especially in the utilities, mining and energy sector, but also in most other industries like transportation.

Regulation as extreme risk
Any industry sector or corporate not moving fast enough to adjust its products, services and production to a green, low-carbon economy is exposed to climate transition risk, and may fail to deliver the financial returns expected on a mid-term horizon. For example, the profitability outlook of specific car manufacturers needs to be evaluated in the context of meeting the EU legislation for reducing passenger car emissions. The EU sets a fleet average target by 2021, to be achieved by all new cars, of 95 grams of CO2 per kilometre. This represents a reduction of 40% compared with 2007. When exceeding this emissions target, car manufacturers have to pay penalties.4
Exceptionally sudden regulatory steps to curb and tax emissions may trigger short-term financial tail risks, as corporates may not be ready to radically adjust their business model. While of different cause, and not geared to curb global warming, the German decision to rapidly exit nuclear power after the Fukushima event has shown how swiftly the business outlook of utilities such as RWE and EON can be turned upside down.
The Financial Stability Board (FSB) was established in 2009 with the goal to enhance the stability of the global financial system, the efficiency of financial markets and the mitigation of systemic risk. As of 2016 the FSB has developed a framework for corporate, climate-related financial risk disclosures. Gradual disclosure will allow capital markets and firms to better understand, measure and price climate-related risk. The FSB has even discussed possible stress tests on firms' climate risk exposure, to evaluate the repricing of assets through extreme events.5

The right portfolio strategy
So what can an asset owner and investor do to integrate climate change investment risks into portfolio strategies? The suggested four-step approach shows a solution (see chart B/).
Step 1 (Top-down): Integration of climate risks into Strategic Asset Allocation (SAA)
Objectives: analyse how climate risks may alter the asset allocation choice with respect to a reference portfolio. The key input is an analysis of what defines climate risk, and how it may translate into future performance of asset classes. Together with Allianz Climate Solutions, Allianz Global Investors has developed a climate change risk heat map across all asset classes to assess climate risk exposure and sensitivity.6
Step 2 (Top-down): Review new climate opportunity asset classes
Objectives: analyse how green bonds, climate transition equity opportunities, private debt and private equity green-tech or renewable energy infrastructure, etc. may improve overall portfolio performance. A sustainable, transformational trend towards a low-carbon society will require massive efforts and financing on a global scale, and may create attractive investment opportunities.
Step 3 (Bottom-up): Investigate climate risk optimisation of existing asset classes
Objectives: investigate within existing asset classes how fundamental research and active investment choices can be optimised with respect to managing climate risk exposure or opportunities. In equity and bond portfolios, high climate tail risk across sectors and corporates should be carefully analysed and potentially be underweighted, e.g. avoid worst-in-class corporates while considering 'climate change winners'.
Step 4 (Bottom-up): Aim to influence issuer performance with respect to climate risk
Objectives: review how an active asset manager may improve the performance of selected corporates whose business success appears exposed to climate transition risks, through corporate engagement and proxy voting strategies.
The Asset Owners Disclosure Project (AODP) (Status: Q1 2017) aims to benchmark the expertise and approach to managing the financial impact of climate change on investment portfolios. In the most recent 2017 Global Climate 500 Index, Allianz Global Investors was ranked 6th in the group of the world's 50 biggest asset managers, who between them manage over 70% of global AUM.

Carbon footprint

For asset owners and investors, a complementary action to deal with climate change risks is to create more portfolio transparency. In compliance with new Article 173 of the French Energy Transition Law, most institutional investors in France are required to publish their activities to contribute to a green economy, and the control of GHG in the context of their investments.
While the regulator has not defined the reporting format, the French asset management association AFG has recommended reporting portfolios against four criteria: ESG integration, carbon footprint, contribution to energy transition and climate transition risk. Allianz Global Investors has produced over 250 mutual fund and mandate-related ESG and climate risk portfolio reports for its French clients, that build on the AFG recommendations.
In the context of climate change, the measurement of a portfolio's carbon footprint has emerged as a tool to make the impact of investments on climate change more transparent. It tries to capture the total amount of GHG caused by the individual portfolio holdings. Chart C/ shows an excerpt of a portfolio's carbon footprint report.

Outlook
While there are manifold challenges for investors to reach their investment objectives these days, e.g. low interest rates and high (political) risks, climate change risks should not be ignored. Prudent asset management requires a forward-looking approach. Allianz Global Investors has summarised its view on climate change risk, potential research and investment measures in its new Climate Risk Investment Positioning, which can be accessed on the global ESG website. This statement summarises and answers the most important questions of our clients, and presents our views on climate change risks and opportunities.
1 Institutions for Occupational Retirement Provision Directive (IORP II) Directive (2016), Article 57. http://eur-lex.europa.eu/legal-content/EN/TXT/PDF/?uri=CELEX:32016L2341&from=EN Forum pour l'investissement responsible: Article 173-VI: Understanding the French regulation on investor climate reporting FIR Handbook No. 1 The ESG-Climate approach: from reporting to strategy, a tool for better investing October 2016. Retrieved from: http://www.frenchsif.org/isr-esg/wp-content/uploads/Understanding_article173-French_SIF_Handbook.pdf Principles for Responsible Investment (2016), French Energy Transition Law: Global Investor Briefing. Retrieved from: https://www.unpri.org/news/what-the-french-energy-transition-law-means-for-investors-globally
2 PRI Association: "Institutions for Occupational Retirement Provision (IORP) Directive: ESG Clauses" (https://www.unpri.org/download_report/20476)
3 Elon Musk announces his plan to colonise Mars and save humanity. Retrieved from: https://www.wired.com/2016/09/elon-musk-colonize-mars/
4 European Union climate action: Reducing CO2 emissions from passenger cars. Retrieved from: https://ec.europa.eu/clima/policies/transport/vehicles/cars_en
5 Financial Stability Board's Task Force on Climate-related Financial Disclosures (2016), Recommendations of the Task Force on Climate-related Financial Disclosures. Retrieved from: https://www.fsb-tcfd.org/wp-content/uploads/2016/12/TCFD-Recommendations-Report-A4-14-Dec-2016.pdf
6 Allianz Global Investors (2017), Heat map of climate risks across asset classes. Retrieved from: https://www.allianzgi.com/insights/investment-themes-and-strategy/the-heat-is-on

Investing involves risk. The value of an investment and the income from it will fluctuate and investors may not get back the principal invested. Past performance is not indicative of future performance. Investments in commodities may be affected by overall market movements, changes in interest rates, and other factors such as weather, disease, embargoes and international economic and political developments. Investments in smaller companies may be more volatile and less liquid than investments in larger companies. Investments in emerging markets may be more volatile than investments in more developed markets. Dividends are not guaranteed. Bonds are subject to interest rate risk and the credit risk of the issuer. This is a marketing communication. It is for informational purposes only. This document does not constitute investment advice or a recommendation to buy, sell or hold any security and shall not be deemed an offer to sell or a solicitation of an offer to buy any security.
The views and opinions expressed herein, which are subject to change without notice, are those of the issuer or its affiliated companies at the time of publication. Certain data used are derived from various sources believed to be reliable, but the accuracy or completeness of the data is not guaranteed and no liability is assumed for any direct or consequential losses arising from their use. The duplication, publication, extraction or transmission of the contents, irrespective of the form, is not permitted.
This material has not been reviewed by any regulatory authorities. In mainland China, it is used only as supporting material to the offshore investment products offered by commercial banks under the Qualified Domestic Institutional Investors scheme pursuant to applicable rules and regulations.
This document is being distributed by the following Allianz Global Investors companies: Allianz Global Investors U.S. LLC, an investment adviser registered with the U.S. Securities and Exchange Commission; Allianz Global Investors GmbH, an investment company in Germany, authorized by the German Bundesanstalt für Finanzdienstleistungsaufsicht (BaFin); Allianz Global Investors Asia Pacific Ltd., licensed by the Hong Kong Securities and Futures Commission; Allianz Global Investors Singapore Ltd., regulated by the Monetary Authority of Singapore [Company Registration No. 199907169Z]; Allianz Global Investors Japan Co., Ltd., registered in Japan as a Financial Instruments Business Operator [Registered No. The Director of Kanto Local Finance Bureau (Financial Instruments Business Operator), No. 424, Member of Japan Investment Advisers Association]; Allianz Global Investors Korea Ltd., licensed by the Korea Financial Services Commission; and Allianz Global Investors Taiwan Ltd., licensed by Financial Supervisory Commission in Taiwan.
158054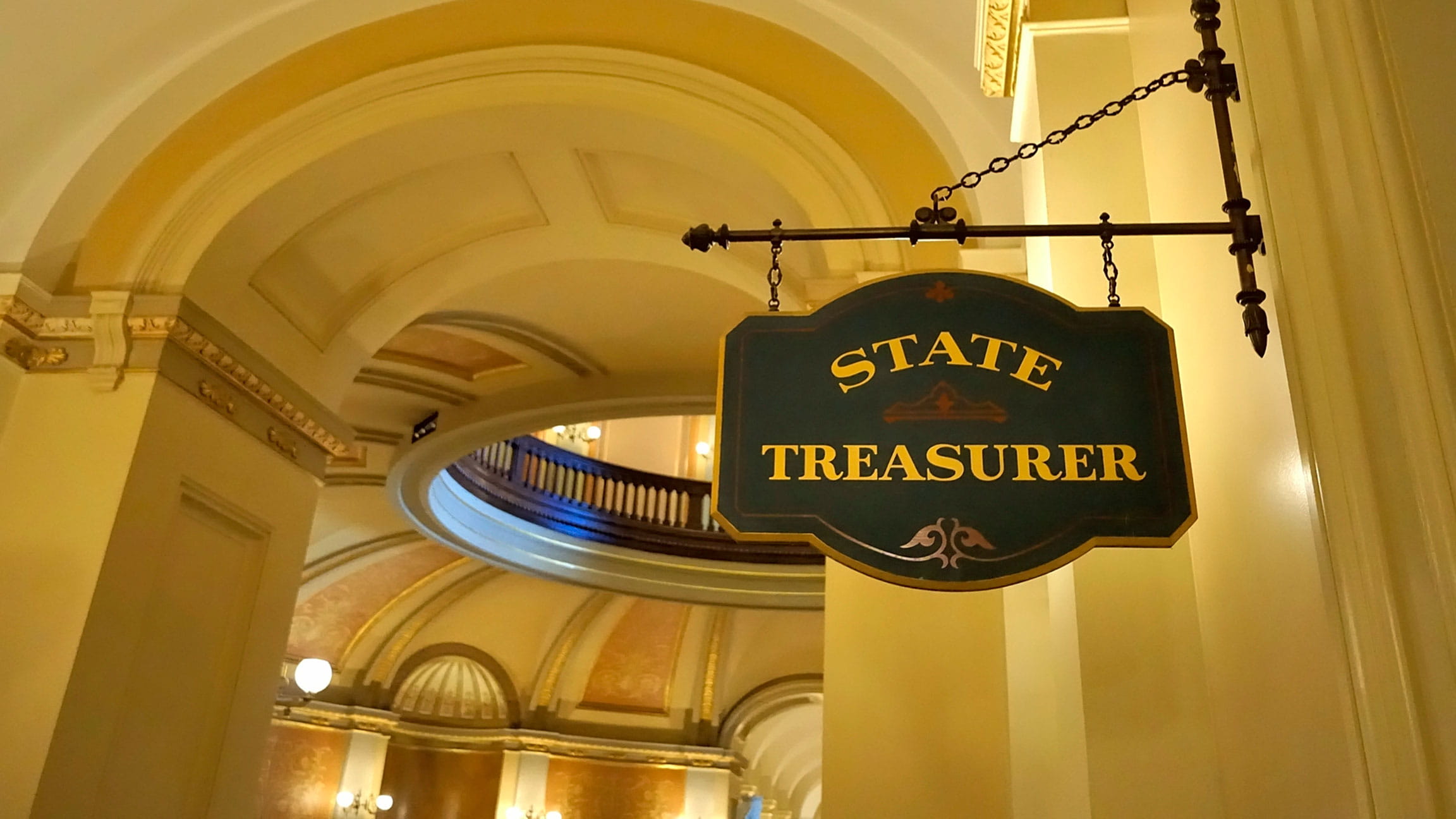 Summary
With dozens of states facing budget shortfalls, policymakers urgently need to make difficult spending and taxation decisions. Even with help from the federal government, states facing the most fiscal stresses may need to cut spending, reduce payrolls and even suspend pension obligations.
Key takeaways
States face major problems in paying promised benefits: Their collective budget shortfall may be USD 4 trillion
Large public pension plans are funded at just 70% of what they're obligated to pay in benefits to retirees
These stresses shouldn't lead to cascading defaults, nor is there reason to expect the municipal bond market to collapse