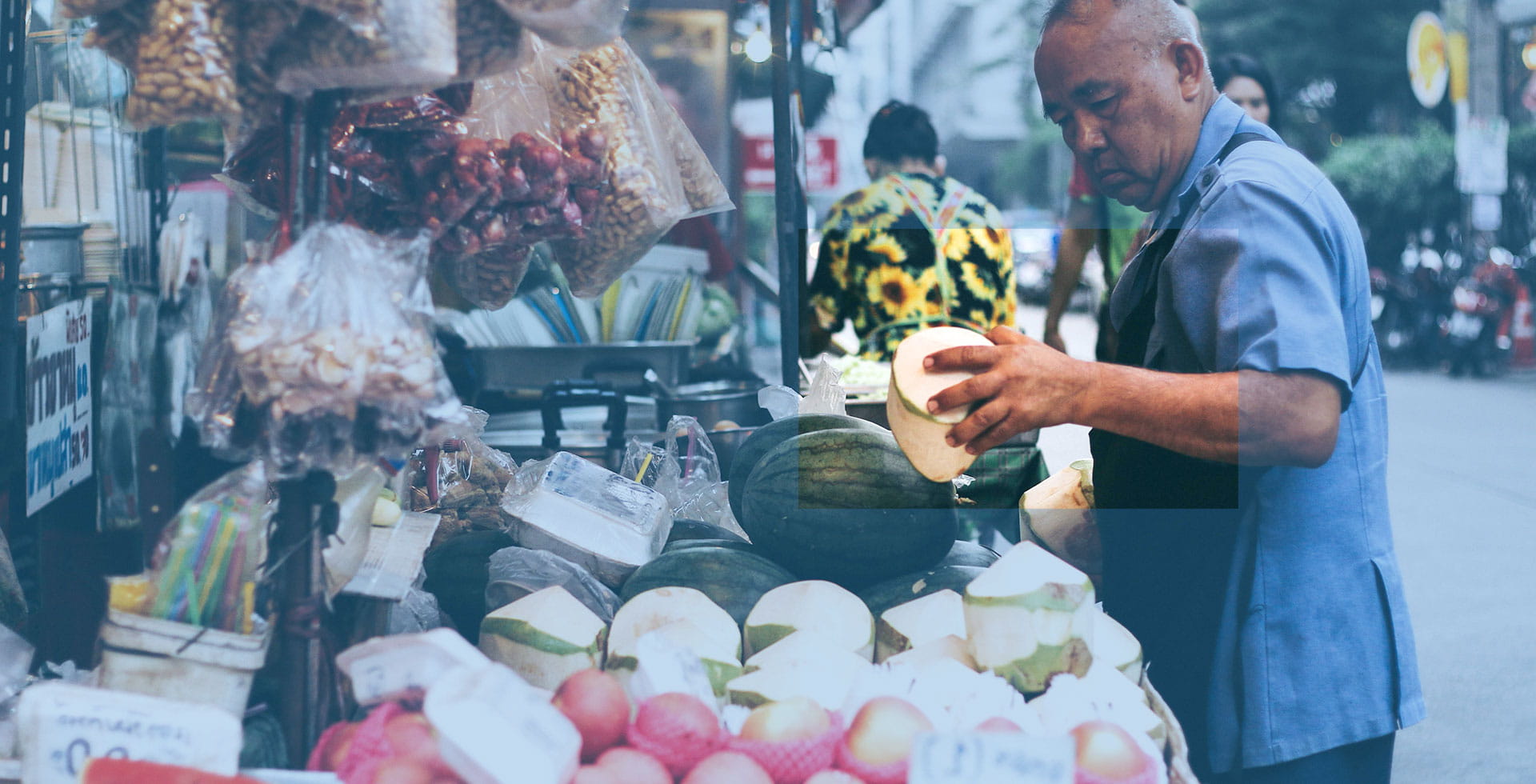 Summary
Global growth continues to decelerate, but many emerging-market economies are presenting opportunities after a tough 2018. Domestic growth is being pushed higher by accommodative commodity prices, Fed support and easing trade tensions.
Key takeaways


The macroeconomic environment is supporting emerging markets, creating a buying opportunity for longer-term investors
Rising costs in China, coupled with increasing tensions with the US, have put pressure on company margins and created opportunities for other Asian emerging markets to grow
Risks are inherent in emerging-market investing, so investors should aim to be active and long term; don't lump all emerging markets together, since each country faces its own risks and drivers
Look for countries or companies with strong fundamentals and good balance sheets – and for firms that could benefit from long-term growth stories such as AI and demographic shifts
When considering emerging-market bonds, the choice of funding currency is paramount; economic weakness in other regions could support the US dollar despite the Fed's dovish turn, so emerging-market hard-currency bonds are relatively safe for most investors
Emerging markets offer growth potential in a slow-growth world
After global growth peaked and major markets dropped in 2018, investors began looking for both growth and capital preservation potential. So far this year, developed-market indices – particularly in the US – have done well, but emerging markets also look attractive:
In 2018, the MSCI Emerging Market Index dropped 18.0%, but as at 29 March 2019 the index has returned 9.6% year to date. The accompanying chart shows the country-by-country breakdown of this marked turnaround in emerging-market equities.

Last year's emerging-market sell-off was made worse by a strong US dollar, fears of a slowdown in China, tighter US monetary policy, rising oil prices and an escalating trade war. As we'll explain below, many of these pressures have since abated – or at least not deteriorated.

The US economy continues to provide a supportive macro backdrop to what could be a good year for emerging markets.
Many emerging-market nations have enjoyed strong equity performance in 2019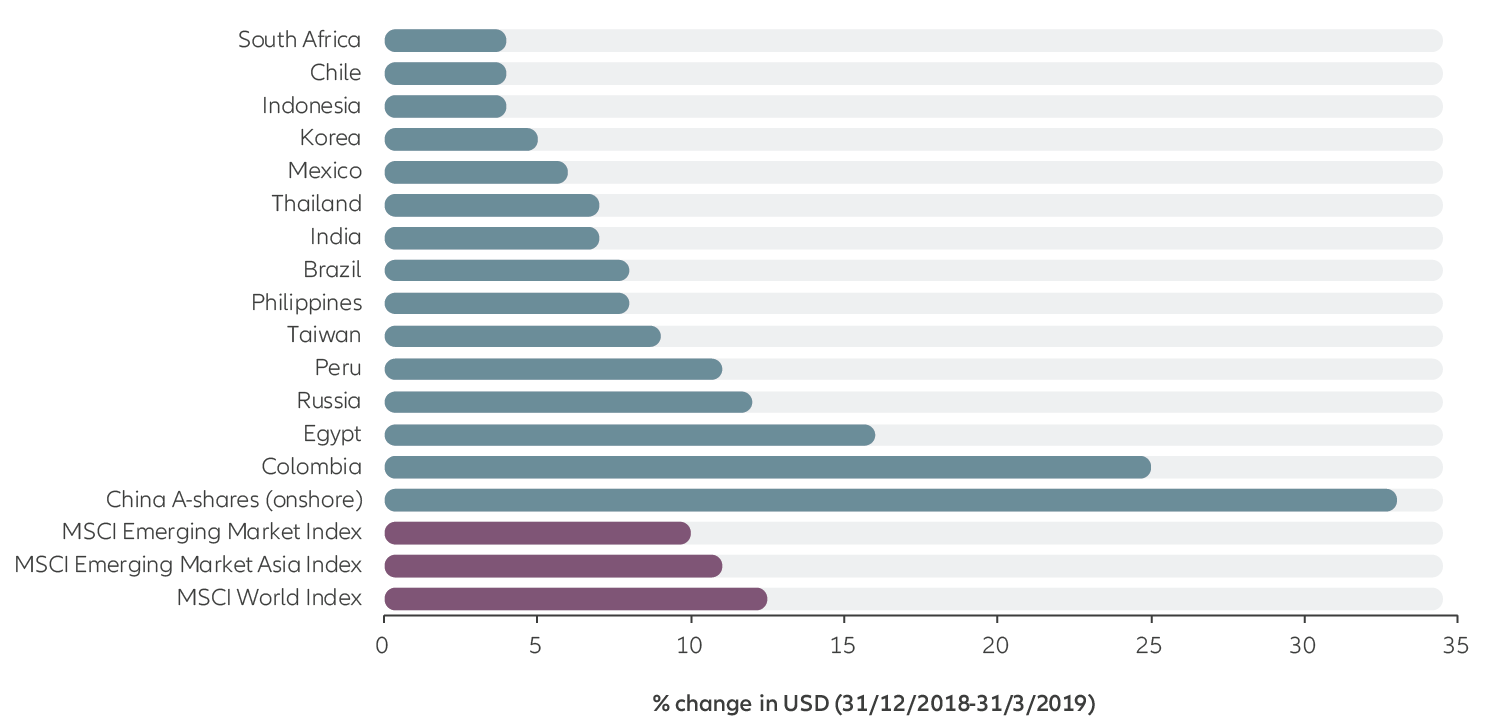 Source: Rimes. Data as at 31 March 2019.
It is a crucial part of our mandate as active investors to understand fully the potential plusses and minuses of each emerging-market nation. Big swings in emerging-market indices can conceal critical fundamental differences between countries. It's important to remain selective in country allocation rather than tarring all nations, sectors and companies with the same broad brush. For example, we think investors should consider avoiding countries with large external funding requirements, such as Sri Lanka, and look instead for strong fundamentals, overall quality and a positive direction of growth.
Four reasons emerging markets could do well in 2019
Here's a closer look into four factors that may drive emerging markets higher in 2019.
Supportive commodity prices.

Copper prices are often considered an indicator of economic health, and they tend to have high correlations with emerging-market equities. Despite China being affected by slowing growth, the price of copper has risen around 10% in 2019 as demand outpaces production. We believe this trend will continue late into 2019 as President Xi Jinping implements further stimulus for the Chinese economy, pushing up additional demand for copper and helping emerging-market producers, such as Chile. Despite soaring to a high of USD 86 per barrel in late 2018, we expect oil prices to remain range-bound this year at around USD 70 per barrel. This, coupled with rising copper prices, provides a strong foundation for several emerging-market economies.

A flexible, responsive Fed.

Until recently, the US Federal Reserve was steadily hiking interest rates to keep a strong US economy from overheating. This was a major headwind for emerging markets, which have historically suffered when foreign direct investment is drawn back to less-risky US securities. Cheap US debt also helped the finances of many emerging-market countries, which may in turn have trouble paying down that debt in a rising-rate environment. But by pausing rate hikes, the Fed has shown its willingness to keep monetary policy accommodative if the economic data warrant it. If US yields stay low and the US dollar softens, emerging markets could grow more attractive to investors.

De-escalation of US-China trade tensions.

We think the US and China are likely to reach a trade deal in 2019, settling their structural issues – or we at least expect the two countries to commit to resolving several of the biggest sticking points. Politics and saving face will play a big factor for both leaders: President Donald Trump will be pivoting into election mode while President Xi faces a domestic slowdown, which is fundamentally problematic to his overall ideology for China.

China may be slowing, but other Asian nations are growing.

Trade tensions and rising wages in China are pushing some foreign companies to diversify operations away from China and into neighbouring countries such as Vietnam, Thailand and India. This trend could deliver a boost to their economies.
Meanwhile, China's annual economic growth target has been lowered to between 6% and 6.5% as President Xi attempts to maintain a sustainable output while establishing a floor on China's slowdown. Although this slowdown could hurt surrounding emerging-market countries as demand for services, trade and manufacturing weakens, we believe in China's long-term potential. Better-than-expected March purchasing managers index data highlight the government's ability to reduce its debt and stabilise growth, which should help ward off a hard landing. China's healthy consumer demand, boosted by domestic tax cuts, should also benefit surrounding countries.
Keeping emerging markets in the mix
Despite slowing global growth, we don't believe there will be a recession in 2019. Rather, accommodative central-bank policy, de-escalation of trade tensions between the US and China, and stabilisation in China's economic growth numbers should support a temporary recovery that segues into the second half of 2019. This global rebound should see continued support for commodity prices and provide a boost to the economies of oil-importing countries – particularly India, Chile, Indonesia and China.

Although emerging-market equities are more fairly valued than they were at the start of the year, they maintain a discount versus developed markets.

US dollar-denominated sovereign debt from emerging markets also has an attractive carry over both 5- and 10-year US Treasuries. In other words, the spread – or difference in yields – of these securities versus US Treasuries should be attractive to investors with long-term investment horizons, and provide a reason to look past the short-term volatility associated with emerging markets. That makes it important for investors to consider maintaining a strategic allocation to both US Treasuries and US dollar-denominated emerging-market sovereign debt.

However, with emerging-market valuations now more fairly valued, investors need to remain cautious of downside risks and not think that all emerging-market nations are the same. Rather, investors should focus on the fundamentals and actively manage their allocations to ensure they have diversified portfolios.
Investing involves risk. The value of an investment and the income from it will fluctuate and investors may not get back the principal invested. Diversification does not ensure a profit or protect against a loss. Equities have tended to be volatile, and do not offer a fixed rate of return. Bond prices will normally decline as interest rates rise. The impact may be greater with longer-duration bonds. Foreign markets may be more volatile, less liquid, less transparent, and subject to less oversight, and values may fluctuate with currency exchange rates; these risks may be greater in emerging markets. Past performance is not indicative of future performance. This is a marketing communication. It is for informational purposes only. This document does not constitute investment advice or a recommendation to buy, sell or hold any security and shall not be deemed an offer to sell or a solicitation of an offer to buy any security.
The views and opinions expressed herein, which are subject to change without notice, are those of the issuer or its affiliated companies at the time of publication. Certain data used are derived from various sources believed to be reliable, but the accuracy or completeness of the data is not guaranteed and no liability is assumed for any direct or consequential losses arising from their use. The duplication, publication, extraction or transmission of the contents, irrespective of the form, is not permitted.
This material has not been reviewed by any regulatory authorities. In mainland China, it is used only as supporting material to the offshore investment products offered by commercial banks under the Qualified Domestic Institutional Investors scheme pursuant to applicable rules and regulations.
This document is being distributed by the following Allianz Global Investors companies: Allianz Global Investors U.S. LLC, an investment adviser registered with the U.S. Securities and Exchange Commission; Allianz Global Investors Distributors LLC, distributor registered with FINRA, is affiliated with Allianz Global Investors U.S. LLC; Allianz Global Investors GmbH, an investment company in Germany, authorized by the German Bundesanstalt für Finanzdienstleistungsaufsicht (BaFin); Allianz Global Investors (Schweiz) AG, licensed by FINMA (www.finma.ch) for distribution and by OAKBV (Oberaufsichtskommission berufliche Vorsorge) for asset management related to occupational pensions in Switzerland; Allianz Global Investors Asia Pacific Ltd., licensed by the Hong Kong Securities and Futures Commission; Allianz Global Investors Singapore Ltd., regulated by the Monetary Authority of Singapore [Company Registration No. 199907169Z]; Allianz Global Investors Japan Co., Ltd., registered in Japan as a Financial Instruments Business Operator [Registered No. The Director of Kanto Local Finance Bureau (Financial Instruments Business Operator), No. 424, Member of Japan Investment Advisers Association and Investment Trust Association, Japan]; and Allianz Global Investors Taiwan Ltd., licensed by Financial Supervisory Commission in Taiwan.
815880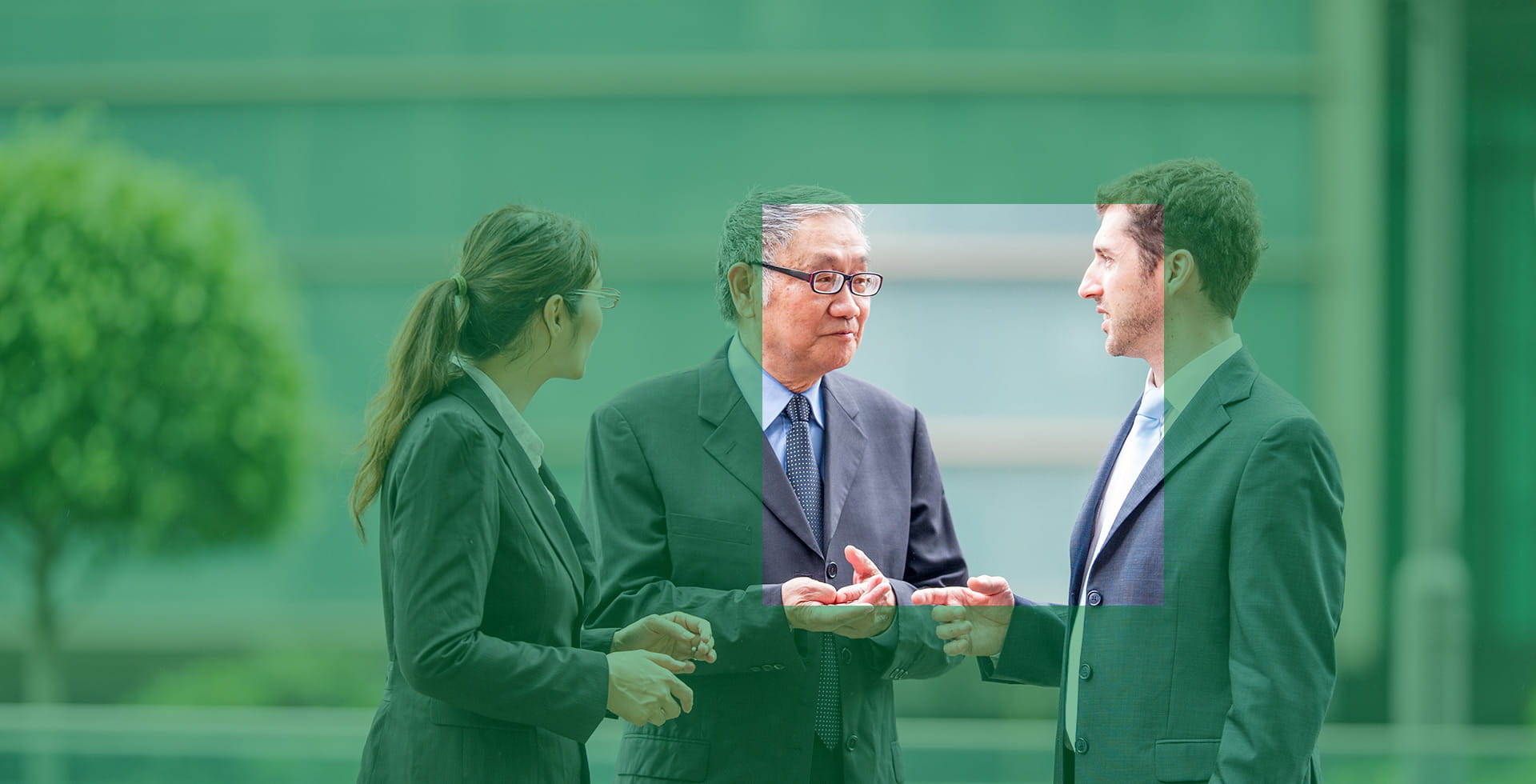 Summary
Thanks to positive macroeconomic news, China's resilient growth and room to cut rates in India and Indonesia, the outlook for Asia-Pacific risk assets is good. Corporate bonds, emerging-market debt and dividend-paying stocks can play a critical role for investors in search of income potential.
Key takeaways


"Riskier" assets in the Asia-Pacific region offer attractive income potential for investors dissatisfied with the returns of traditionally "safe" bonds
After a tough 2018, Asian risk assets have been supported by Federal Reserve policy, easing US-China trade tensions and stabilising growth in China
China's growth outlook is positive for Asia overall and should help the region's equity markets, including dividend-paying stocks
India and Indonesia have room to cut their policy rates, which should help their bonds