Summary
As a high-tech force with the potential to disrupt entire industries, artificial intelligence could transform today's world even more than the internet once did. And with AI at an inflection point, investors have an exciting opportunity to tap future sources of growth potential across the market.

Key takeaways
AI is a truly disruptive force that can create and destroy entire industries, which makes understanding AI critical to active investing

For example, AI-guided cars will not only move differently, but they may be owned, repaired and insured differently too

This AI inflection point gives investors an exciting opportunity to access future sources of innovation and growth potential
Today's artificial-intelligence (AI) technology might not yet be the stuff of science-fiction fantasies, but it is already changing the world in which we live. In fact, promising new AI developments are set to drive the next wave of innovation and automation for decades to come. Like the personal computer and the internet, it is a truly transformational force that has the potential to create new industries and dramatically change the business models of existing businesses. That is why understanding the impact of AI is critical to active investing – and not just in the high-tech space.


Why AI is reaching an inflection point
AI has a long history. While the principles behind it first emerged in the 1950s, it was only with the unprecedented convergence of today's powerful cloud-based computing, mobile technology and "big data" resources that genuine AI became a real possibility. Better chips are gathering and processing more information at an exponential rate, which helps make AI deeper and more powerful than ever before. Moreover, the ubiquity of smartphones – to communicate over social media, make purchases and more – is resulting in enormous amounts of data that are stored, analysed and interpreted in real time. All the while, machines continue to learn with each interaction.

It is important to understand that much of what today's AI is already achieving is behind the scenes or merely the start of the journey. Here are just a handful of practical applications that already show the potential for AI to transform our daily lives:
Route-planning algorithms adapt to changing traffic conditions, and smart sensors enable self-parking and other advanced safety features.

Consumers routinely communicate using virtual assistants like Amazon's Alexa, Apple's Siri and Google Assistant – devices that get smarter with each question asked.

AI is starting to be used to identify breast cancer and diagnose pulmonary hypertension – in some cases with greater accuracy than human specialists.

These changes to our world will have a dramatic impact on the companies in which we invest, both directly and indirectly. For example, the work being done on driverless cars by companies like Google, Tesla and Uber threatens not only established auto giants, but the businesses that support them. Cars guided by AI will not only move differently, but they may be owned, repaired and, with the elimination of "human" error, insured differently too. Such is the wide reach of a truly disruptive technology.


The AI era is just beginning
Artificial intelligence is likely to be the largest driver of innovation and disruption across every industry group for decades to come. In fact, the accelerating pace of innovation in AI means that companies will need to identify and deploy new business strategies infused with AI or find themselves at a competitive disadvantage. We believe that companies that are able to effectively embrace this innovation are likely to capture a large portion of their industries' profits. As a result, vulnerability to disruption is something we have actively chosen to include in our broader company analysis here at Allianz Global Investors.


Is AI the next industrial revolution?
The potential benefits from AI have led some to compare its advancement to the next industrial revolution. In much the same way that steam-powered machines changed the face of rural economies and the labour force, AI has the potential to transform entire industries. For our part, we believe AI could have a bigger and more profound impact on people's lives and society than even the internet. And for our clients, this inflection point represents an exciting opportunity to access future sources of innovation and growth potential across the market.

As active investors, it is our job to recognize the companies that will drive and benefit from those changes, and to help our clients take advantage of them. Embracing and adapting to those challenges will be a large part of what will make being an investor in the coming decades so exciting.


This document has been distributed for informational purposes only, and any reference to a particular investment or security is not a recommendation to buy, sell or hold such an investment or security, and should not be considered investment advice. Some or all the securities identified and described may represent securities purchased in client accounts. The reader should not assume that an investment in the securities identified was or will be profitable. The securities or companies identified do not represent all of the securities purchased, sold, or recommended for advisory clients. Actual holdings will vary for each client. Amazon, Apple and Google are referenced on this page because they represent the most competitive companies within the digital assistant market as at May 2017. Tesla is referenced on this page because it is the most popular electric car model according to themerkle.com as at April 2017. Uber is referenced because it is the most valuable start-up company according to economist.com as at September 2016.
Investing involves risk. The value of an investment and the income from it will fluctuate and investors may not get back the principal invested. Past performance is not indicative of future performance. Bonds are subject to interest rate risk and the credit risk of the issuer. High yield or «junk» bonds have lower credit ratings and involve a greater risk to principal. This is a marketing communication. It is for informational purposes only. This document does not constitute investment advice or a recommendation to buy, sell or hold any security and shall not be deemed an offer to sell or a solicitation of an offer to buy any security.
The views and opinions expressed herein, which are subject to change without notice, are those of the issuer or its affiliated companies at the time of publication. Certain data used are derived from various sources believed to be reliable, but the accuracy or completeness of the data is not guaranteed and no liability is assumed for any direct or consequential losses arising from their use. The duplication, publication, extraction or transmission of the contents, irrespective of the form, is not permitted.
This material has not been reviewed by any regulatory authorities. In mainland China, it is used only as supporting material to the offshore investment products offered by commercial banks under the Qualified Domestic Institutional Investors scheme pursuant to applicable rules and regulations.
This document is being distributed by the following Allianz Global Investors companies: Allianz Global Investors U.S. LLC, an investment adviser registered with the U.S. Securities and Exchange Commission; Allianz Global Investors GmbH, an investment company in Germany, authorized by the German Bundesanstalt für Finanzdienstleistungsaufsicht (BaFin); Allianz Global Investors Asia Pacific Ltd., licensed by the Hong Kong Securities and Futures Commission; Allianz Global Investors Singapore Ltd., regulated by the Monetary Authority of Singapore [Company Registration No. 199907169Z]; Allianz Global Investors Japan Co., Ltd., registered in Japan as a Financial Instruments Business Operator [Registered No. The Director of Kanto Local Finance Bureau (Financial Instruments Business Operator), No. 424, Member of Japan Investment Advisers Association]; Allianz Global Investors Korea Ltd., licensed by the Korea Financial Services Commission; and Allianz Global Investors Taiwan Ltd., licensed by Financial Supervisory Commission in Taiwan.
150962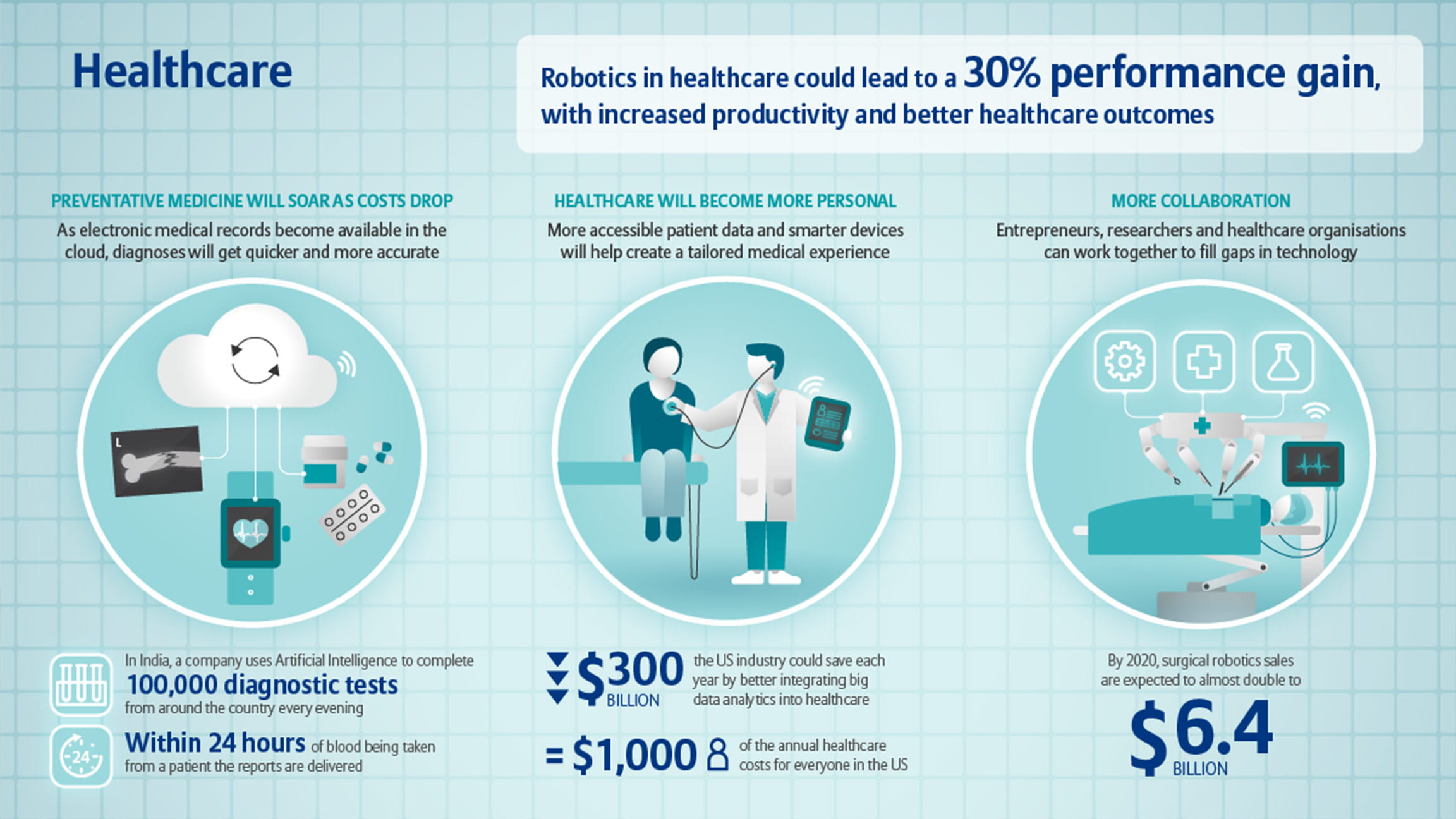 Summary
Going forward, the healthcare system will be strongly influenced by developments in Artificial Intelligence. The expected benefits include improved prevention, more individualized care and generally more cost-effective healthcare.