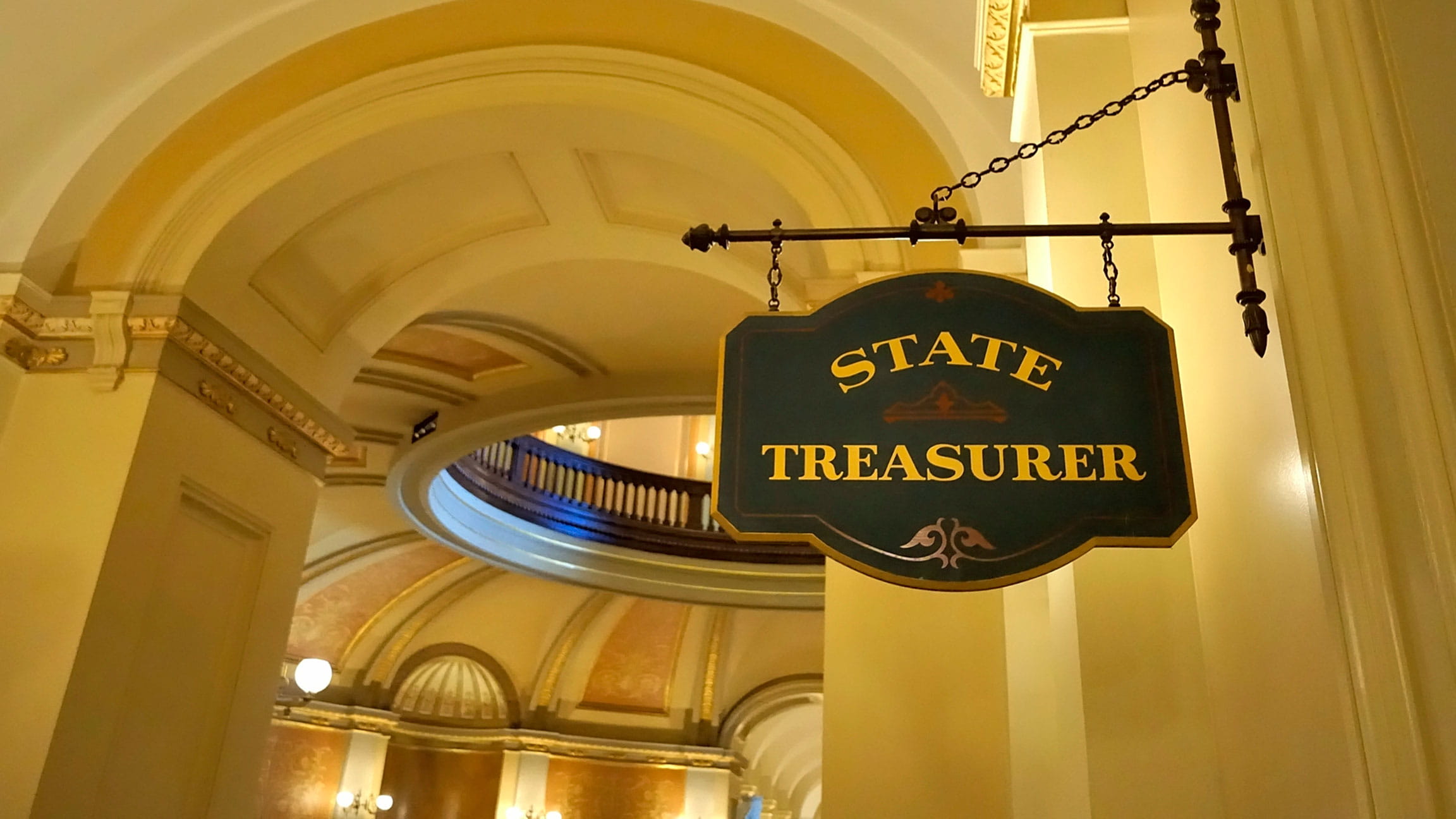 Summary
With dozens of states facing budget shortfalls, policymakers urgently need to make difficult spending and taxation decisions. Even with help from the federal government, states facing the most fiscal stresses may need to cut spending, reduce payrolls and even suspend pension obligations.
Key takeaways
States face major problems in paying promised benefits: Their collective budget shortfall may be USD 4 trillion
Large public pension plans are funded at just 70% of what they're obligated to pay in benefits to retirees
These stresses shouldn't lead to cascading defaults, nor is there reason to expect the municipal bond market to collapse
At the beginning of fiscal year 2018, nearly half of the 50 US states are facing budget shortfalls as they cope with a sluggish economy, demographic changes, uncertain revenues and rapidly expanding financial obligations – especially for pensions and health care. Most states describe their fiscal situation as "stable in the near term", but especially weak revenue growth will force budget authorities to make difficult and complicated spending and taxation decisions.
Our analysis concludes that state fiscal policies typically adjust pro-cyclically over economic cycles, meaning that during periods of economic strength states tend to increase spending and lower tax rates; states typically reduce expenditures and raise taxes as the economy stalls. To increase revenues during the recession, states commonly eliminated exemptions, broadened tax bases, raised fees, limited deductions, and increased tax rates, with the majority of tax increases targeted towards personal income and consumption. If the national economy stalls in 2018 or 2019, fractious state legislatures likely will follow the same path.
Beset with uncommon uncertainties, states are approaching fiscal-year 2018 cautiously, following two consecutive years of widespread weakness in tax collections and limited fiscal flexibility. State budgets are projected to increase just 1.0 per cent in FY 2018, according to governors' recommended budgets – the smallest general-fund spending increase since FY 2010. By comparison, general fund spending increased by roughly 4.8 per cent in FY 2017 – the highest rate of growth since before the recession.
During the financial crisis and recession – and the ensuing credit freeze in short-term borrowing markets – rainy day funds and other budget reserves served as a source of liquidity that helped states meet short-term cash flow needs. Based on our research, we conclude that these reserves, which typically amount to 3-8 per cent of budgeted general fund outlays, were not sufficient to maintain budget stability during the recession.
Budget stresses in many states and cities mean governments face both present and looming problems meeting obligations to pensioners. Currently, large public pension plans have just 70 per cent of what they need to pay future benefits to their retirees – and funding levels will not increase significantly unless cities and states ramp up their pension contributions.
Our analysis concludes that the pension predicament is a result of decades of low government contributions, overly optimistic investment assumptions, over-promises on benefits and two recessions that left many retirement systems with deep funding holes. Demographics also played a role: Liabilities are rising as waves of baby boomers retire, leaving fewer active workers to contribute to pension plans.
Meanwhile, renewed focus on infrastructure at the national level will force states to adjust budget priorities over the years ahead. In general, the states neglected the delivery, maintenance, funding and regulation of public infrastructure for many years, if not decades, in order to meet current budgetary requirements. However, state and local governments are the stewards of most of the country's public capital, owning over 90 per cent of non-defence public infrastructure assets. On average, states finance less than 6 per cent of infrastructure spending with general fund taxes. The federal government is an active partner with the states, as federal grants pay for some 30 per cent of state infrastructure spending.
Investment implications
The fiscal stresses confronting state budget authorities will not lead to a cascading of defaults on financial obligations. Individual states already have succumbed to credit-rating downgrades, but few, if any, states have sufficient budget shortfalls that make default imminent. Nothing on the horizon suggests that the municipal bond market will collapse.
Changing priorities within the Trump administration and Congress likely will test the concept of fiscal federalism once again. It remains to be seen the extent to which obligations assumed by the federal government will be kicked back to the states.
It is unclear which states will get the most or the least funding from the federal government for infrastructure projects – and what those projects will be – and which companies will be the beneficiaries of the ramped-up spending.
Similarly, additional federal spending on national defence and homeland security will have more important implications for some states and companies than for others.
Congress and the Trump administration continue to struggle with future funding of Medicaid and Medicare, as well as private health insurance generally. Eventually, the states with the largest low- and moderate-income and senior-citizen populations will be affected most heavily.
Historically, states facing the most fiscal stresses were forced to choose between slashing outlays, partially by laying off workers, and funding payments to pensioners. Typically, the fiscal authorities chose to cut spending first, reduce payrolls next and, only when absolutely necessary, reduce or suspend pension obligations. In each of those cases, municipal bondholders sustained losses.

Investing involves risk. The value of an investment and the income from it will fluctuate and investors may not get back the principal invested. Past performance is not indicative of future performance. This is a marketing communication. It is for informational purposes only. This document does not constitute investment advice or a recommendation to buy, sell or hold any security and shall not be deemed an offer to sell or a solicitation of an offer to buy any security.

The views and opinions expressed herein, which are subject to change without notice, are those of the issuer or its affiliated companies at the time of publication. Certain data used are derived from various sources believed to be reliable, but the accuracy or completeness of the data is not guaranteed and no liability is assumed for any direct or consequential losses arising from their use. The duplication, publication, extraction or transmission of the contents, irrespective of the form, is not permitted.

This material has not been reviewed by any regulatory authorities. In mainland China, it is used only as supporting material to the offshore investment products offered by commercial banks under the Qualified Domestic Institutional Investors scheme pursuant to applicable rules and regulations.

This document is being distributed by the following Allianz Global Investors companies: Allianz Global Investors U.S. LLC, an investment adviser registered with the U.S. Securities and Exchange Commission; Allianz Global Investors GmbH, an investment company in Germany, authorized by the German Bundesanstalt für Finanzdienstleistungsaufsicht (BaFin); Allianz Global Investors Asia Pacific Ltd., licensed by the Hong Kong Securities and Futures Commission; Allianz Global Investors Singapore Ltd., regulated by the Monetary Authority of Singapore [Company Registration No. 199907169Z]; Allianz Global Investors Japan Co., Ltd., registered in Japan as a Financial Instruments Business Operator [Registered No. The Director of Kanto Local Finance Bureau (Financial Instruments Business Operator), No. 424, Member of Japan Investment Advisers Association]; Allianz Global Investors Korea Ltd., licensed by the Korea Financial Services Commission; and Allianz Global Investors Taiwan Ltd., licensed by Financial Supervisory Commission in Taiwan.

253878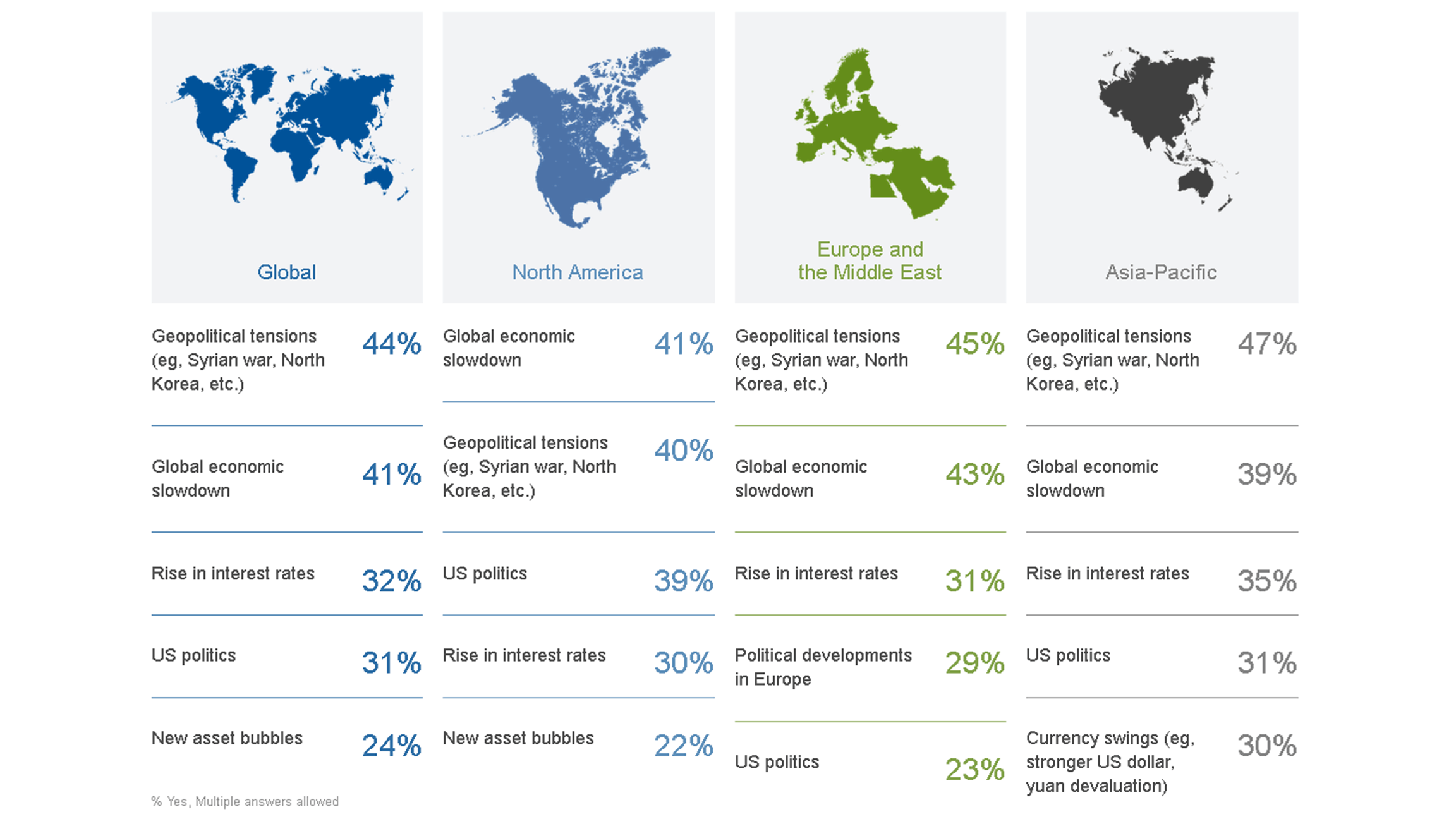 Summary
Geopolitical tensions are institutional investors' top concern, according to our new RiskMonitor study. As a result, investors are focusing more on risk management and lowering their return expectations.