Gerhard Single,
Head of Family Offices,
Allianz Global Investors,
talks to
Kerstin Keller,
Head of Institutional Marketing,
Allianz Global Investors


At the moment virtually no other term is cited by the media as often as 'Family Office'. Does this surprise you?
Gerhard Single: It is rather astonishing, particularly because the term is certainly not as unambiguous as it sounds. In addition to the fact that it is not protected, no clear definition exists. The most tangible aspect remains the distinction between Single Family Offices and Multi Family Offices – despite certain parallels in terms of the structuring and implementation of these vehicles.

Single Family Offices are usually established by families that have institutional assets of at least €200–€300 million. Their objective is to look after the financial interests, and sometimes also everyday matters that go beyond these, of family members. However, the focus lies clearly on the real preservation and growth of family wealth. The first Single Family Office was founded in the US in 1838 by the Morgan family; the most wellknown at that time was established in 1882 by the Rockefeller family.

On the other hand, Multi Family Offices offer affluent investors various services which, depending on their licensing, range from reporting or control through to conventional wealth management. Banks are also present in this sector, sometimes operating under their own names or sometimes under a separate company name, providing Multi Family Office services to their most exclusive clients.


What explains the enduring popularity of Family Offices?
Gerhard Single: Here too we encounter a great deal of complexity. As far as Single Family Offices are concerned, certainly one reason is that increasingly, middle-market business owners are disposing of their companies. Reasons for this frequently include issues in terms of succession management, but also the currently attractive prices for companies, which are being driven by buoyant M&A activity. Once a sale is concluded, these entrepreneurs are increasingly recognising that the establishment of a Single Family Office is the best solution for managing their wealth, and to foster family cohesion.

Added to this, there is a second reason: both the financial crisis of 2008/2009 and the Schlecker family case demonstrated that in some circumstances it can make sense not to have all assets and investments in your own company, and instead to establish a Single Family Office alongside the thriving company, perhaps through dividends.

For Multi Family Offices the story is rather different. Their popularity and the high number of start-ups are due to the fact that many banks are dismissing employees, or employees are willingly choosing to become self-employed, and these employees are setting up Multi Family Offices with a small selection of former clients. In addition, frustration with banks fuelled by negative press coverage is also leading to the emergence of more and more Multi Family Offices.


What is special about the investment philosophy of Single Family Offices?
Gerhard Single: Such a thing as a uniform investment philosophy simply does not exist. On the contrary, in terms of operational set-up and investment philosophy, I am not aware of any professional investor group that is more heterogeneous than Single Family Offices! This is also not surprising considering that in the case of some Single Family Offices the family business was already sold, while for others it still plays a dominant role, since it accounts for a large part of the family wealth. In medium-sized companies it is often the case that the CFO is responsible not just for the company finances, but also for the family wealth. In these instances we are talking about an integrated Family Office, which although regarded as separate is fully embedded in the company. Yet even in the case of Single Family Offices with comparable backgrounds, virtually no two are alike.

It general it can be said that due to their institutional asset size, most Single Family Offices pursue their investments in a correspondingly professional manner. In addition, since they concentrate on management of their own wealth, in comparison to the other institutional investors they are not subject to any restrictions with regard to alternative investments or equity interests. It is not uncommon for Single Family Offices to prefer to allocate conservative hedge fund strategies or real estate in place of bonds, in order to achieve a comparable risk/reward profile.


Why is Allianz Global Investors such an attractive partner for Family Offices?
Gerhard Single: We are a valued partner for Single Family Offices and family businesses for a number of different reasons. Since around the time of the financial crisis, counterparty risk and reputational risk have been a strong area of focus for wealthy families and family businesses. With the backing of Allianz Group as a robust parent company with an unimpeachable reputation, we are extremely well positioned in this regard. Furthermore, our broad offering and our risk management DNA are tailormade for the needs of Single Family Offices, and their interest in a variety of asset classes and investment areas.

On the investment side, we offer everything from traditional equity and bond investments in Europe, the US and Asia by means of innovative liquid and illiquid alternative investment strategies through to comprehensive risk management overlay, that is to say overall risk and investment ratio management. When required, an experienced team of analysts from our firm can even take over the due diligence process and selection of external managers for our clients. Clients can opt for the implementation of mandates through a managed account, a special fund or – if available – a mutual fund. If needed, our Single Family Offices risk management team can also provide advice on the development and implementation of their strategic asset allocation.

For Multi Family Offices, which act as an asset manager and invest in equity, bond and investment funds on behalf of their clients, AllianzGI offers an extensive selection of compelling strategies for equities, bonds and liquid alternatives that are provided in the form of an investment fund, and have proved successful in practice.


What makes AllianzGI different to other providers when it comes to servicing Single Family Offices?
Gerhard Single: I think that our clients particularly value our network within the Family Office community. According to our clients, in recent years we have succeeded in establishing one of the most renowned conferences in the Germanspeaking region for this investor group. Another aspect that is favourably perceived is that at AllianzGI this client group is serviced by an inhouse specialised team.

Furthermore, we are available as a sparring partner when a new Single Family Office is being set up. In this regard, we arrange meetings with other families who are already experienced in Single Family Offices, in order to create added value that goes beyond our own offering, through potential networking. This can also be organised for Single Family Offices that are already established and can relate to areas outside of our core expertise, such as family governance or the replacement of a Single Family Officer. Finally, our experienced master-KVG team can provide appropriate investment infrastructure both for start-ups and for redesigning Family Office structures that are already established. To me, the strongest proof of our clients' satisfaction is that important new business leads usually come to us through recommendations.


You are responsible for the Family Offices in Germany, Austria and Switzerland, with Germany and Switzerland certainly being the most important Family Office markets in Continental Europe. What differentiates the two markets?
Gerhard Single: In Germany there are a lot of Single Family Offices with German families behind them. The relatively high number of high net worth families in Germany is linked to German medium-sized businesses, which for the most part were established in the post-war years and are a major German success story.

By comparison, Single Family Offices in Switzerland have a greater mix of nationalities. There you will find German as well as Danish, Italian or English families, but also families from outside of Europe, such as India, Brazil, the Middle East or Russia. This internationality is comparable only to the Single Family Office market in the UK. Austria is smaller, but relative to the size of the country it also has prominent Family Offices and highly successful family companies.


Investing involves risk. The statements contained herein may include statements of future expectations and other forward-looking statements that are based on management's current views and assumptions and involve known and unknown risks and uncertainties that could cause actual results, performance or events to differ materially from those expressed or implied in such statements. We assume no obligation to update any forward-looking statement. The value of an investment and the income from it may fall as well as rise and investors may not get back the full amount invested. There is no guarantee that the strategy will succeed and losses cannot be ruled out. Investors may not get back the full amount invested.

The volatility of fund unit prices may be increased or even strongly increased. Past performance is not a reliable indicator of future results. If the currency in which the past performance is displayed differs from the currency of the country in which the investor resides, then the investor should be aware that due to the exchange rate fluctuations the performance shown may be higher or lower if converted into the investor's local currency.

This is for information only and not to be construed as a solicitation or an invitation to make an offer, to conclude a contract, or to buy or sell any securities. The products or securities described herein may not be available for sale in all jurisdictions or to certain categories of investors. This is for distribution only as permitted by applicable law and in particular not available to residents and/or nationals of the USA. The investment opportunities described herein do not take into account the specific investment objectives, financial situation, knowledge, experience or particular needs of any particular person and are not guaranteed. The views and opinions expressed herein, which are subject to change without notice, are those of the issuer and/or its affiliated companies at the time of publication. The data used is derived from various sources, and assumed to be correct and reliable, but it has not been independently verified; its accuracy or completeness is not guaranteed and no liability is assumed for any direct or consequential losses arising from its use, unless caused by gross negligence or willful misconduct. The conditions of any underlying offer or contract that may have been, or will be, made or concluded, shall prevail.

Contact the issuer electronically or via mail at the address indicated below for a free copy of the sales prospectus, the incorporation documents, the latest annual and semi-annual financial reports and the key investor information document in English. Please read these documents – which are solely binding – carefully before investing.

This is a marketing communication issued by Allianz Global Investors GmbH, www.allianzgi.com, an investment company with limited liability, incorporated in Germany, with its registered office at Bockenheimer Landstrasse 42–44, 60323 Frankfurt/M, registered with the local court Frankfurt/M under HRB 9340, authorized by Bundesanstalt für Finanzdienstleistungsaufsicht (www.bafin.de). This report does not satisfy all legal requirements on the guarantee of impartiality in investment recommendations and investment strategy recommendations and is not subject to any trade restrictions prior to the publication of such recommendations. The duplication, publication, or transmission of the contents, irrespective of the form, is not permitted.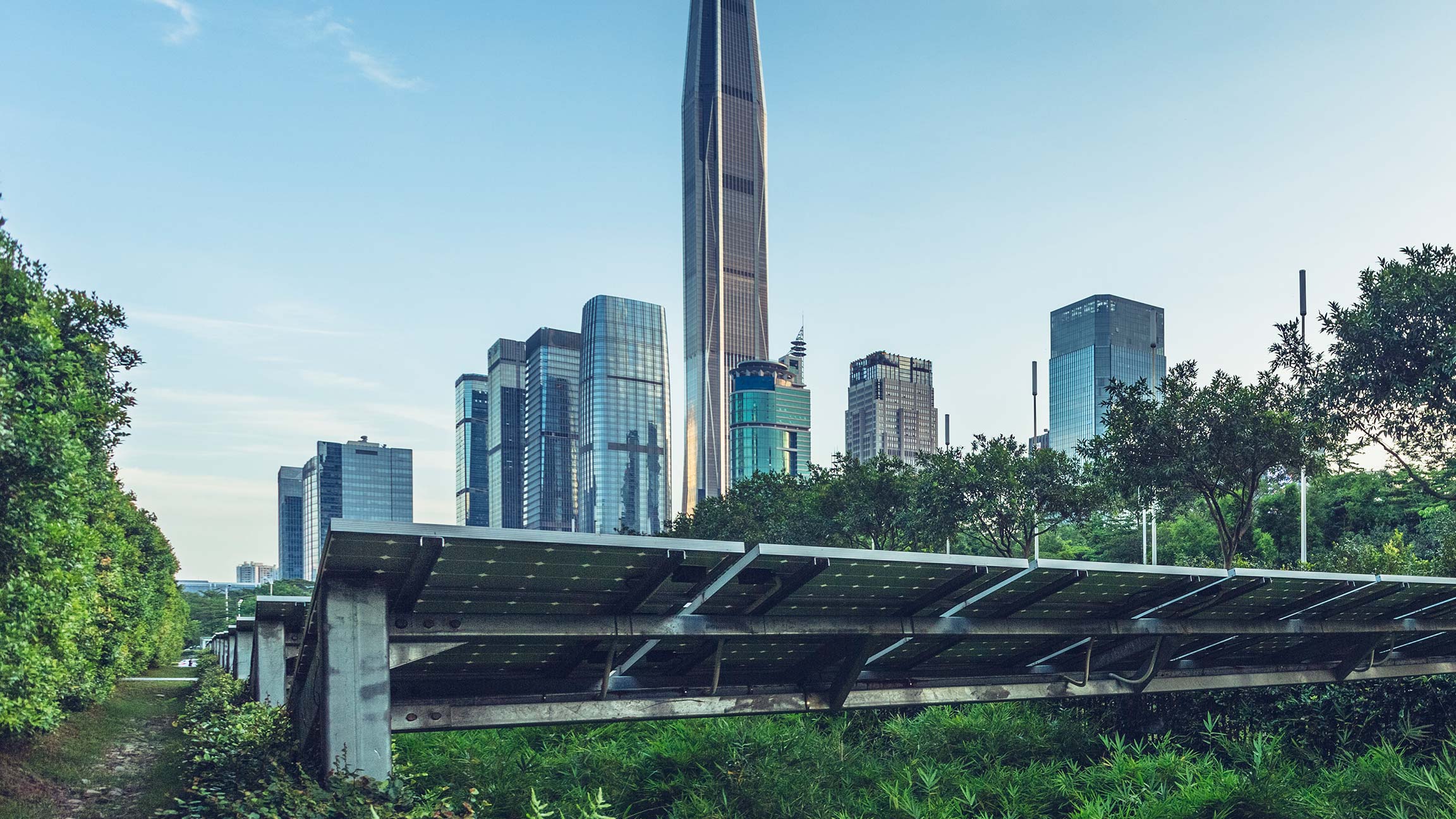 Summary
Infrastructure debt stands out due to its usually low risk profile and positive ESG impact. But for institutional investors, it can be worthwhile to invest in infrastructure projects with potentially higher ESG risks.